Can Your Order Management System Do This?
In the promotional products industry, order management is an essential part of your business and can be crucial to your success.
Are you getting the most from yours?
At AIM we've worked with distributors and suppliers specializing in promotional products for over 15 years, using their insights and experiences to develop a comprehensive tech suite designed to streamline all the processes you need to run your business smoothly. Here's why the AIM Tech Suite is an industry-leading system that will enhance your performance and save you time and money.
Personalized Searches
The AIM Tech Suite's product search enables you to easily find the products you are looking for. If you need to quickly configure a customer quote or want to find the best deals, our product search is optimized to automatically show merchandise, gifts, and brandable items with incredible margins from our trusted VIP suppliers.
You can even save your favorite supplier information for later, so your business bread and butter are always just a click away, meaning you have more time to get on with the important stuff!
Instant Websites
A customer-facing website can be costly and time-consuming to produce, not to mention the regular updating of products and services. It's a full-time job in itself, but not with AIM. Within our tech suite, you can create a fully functional and branded customer-friendly website in a couple of clicks, completely editable for the products and services you want to feature.
And all the orders on your website will flow right into your AIM Tech Suite ready for processing. It is as simple as that.
Build Reports
Keep track of your orders, sales figures, and performance all in the same place. The AIM Tech suite allows you to view and track financial information, analyze customer payments, and even calculate tax reports.
No need to spend hours building spreadsheets, your reports will automatically generate in the system, all you need to do is view them.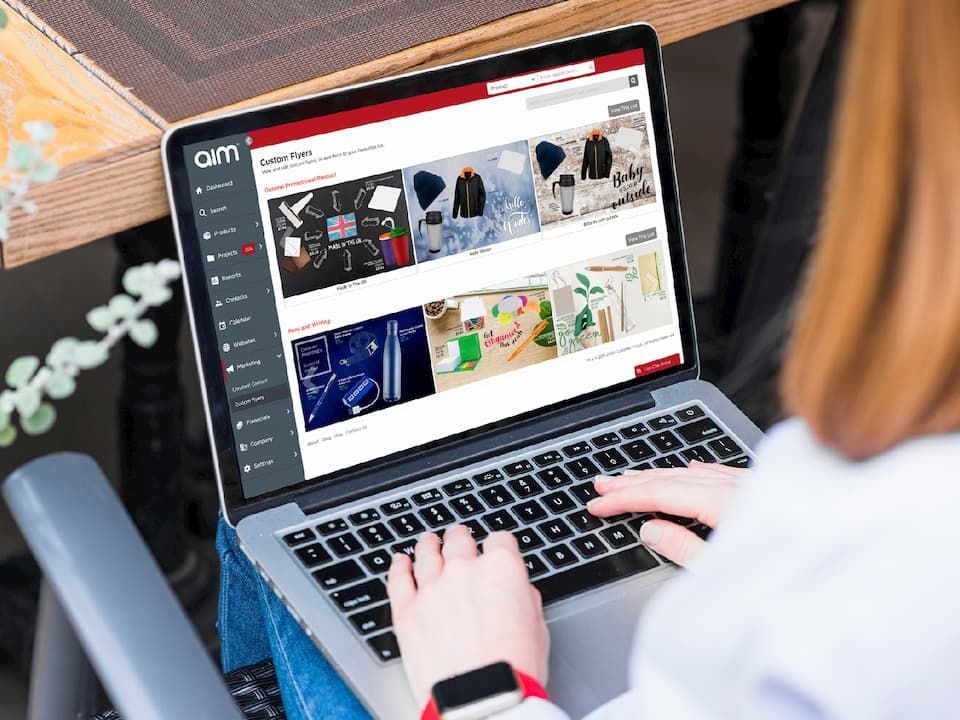 Integrated Marketing Resources
It doesn't stop there. AIM provides marketing materials within the tech suite too! Quickly generate branded flyers to use on your social media platforms, or send directly to your customers, you can even render personalized designs onto a product with our virtual sample technology.
Constant Support
One of the best things about the AIM tech suite is the fact that the experts who built it will always be on hand to guide you through your operations. We can offer tailored support for any questions, big or small.
Want to know more about the AIM Tech Suite and other support we offer? Just get in touch by clicking here.