In June, the Consumer Confidence Index rose to 127.3 up from 120 in May, the highest single month increase since the pandemic began. Business continues to look for signs of not only a normal balance but growth opportunities and this helps to showcase the possibilities.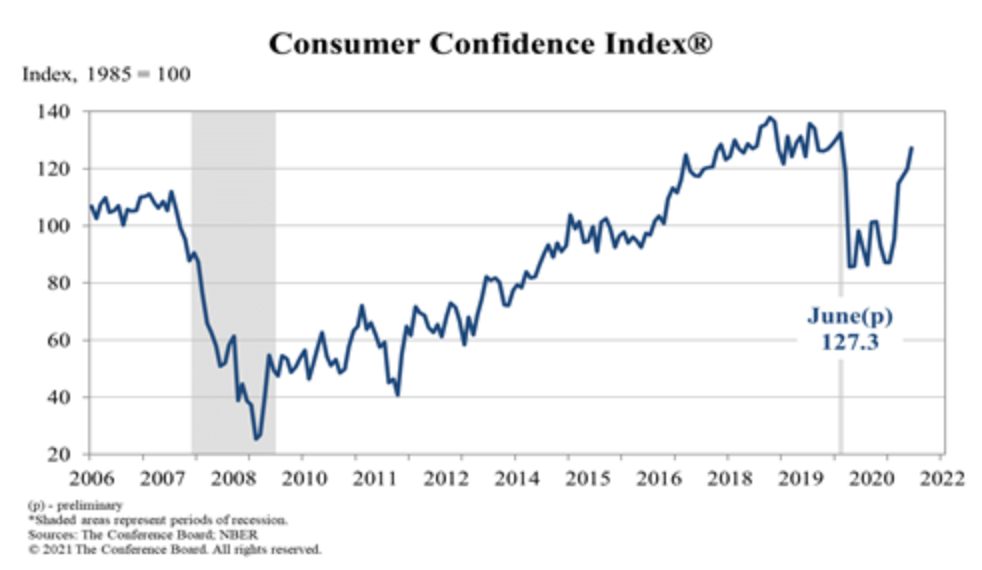 What is the CCI?
The Consumer Confidence Index is a metric that helps demonstrate the state of optimism by consumers from all aspects of buying. This can include retail consumers, household consumers, B2B consumption, as well as B2C consumption. Anyone or any business involved in a sell/purchase scenario can be part of the metric. The index was started in 1967 and is made up of 40 percent consumer opinion of the present market and 60 percent expectations for future conditions. It is most prevalently used to help manufacturers increase or decrease levels of production based on the assumption of future demand.
What does it indicate?
The American consumer is, at least by the standards of the index, finally to a pre-pandemic comfort when it comes to spending. Many factors can be attributed to this including state reopening, vertical market stabilization, decreasing unemployment, or confidence with personal and corporate finance.
This is greatly opportunistic for businesses that have continued to hold off on spending until a greater indication of stabilization is present. Most anticipated that the index would not return to pre-pandemic levels for years and therefore businesses continue to curb spending. After the index dropped during the financial crisis in 2008, for example, it was 10 years before it returned to a pre-event level.
Why is it important?
There is a multitude of metrics associated with economic stability. The Consumer Confidence Index is unique in that it is personal. Other indicators look heavily at supply and demand or financial wellbeing from a banking perspective, but the CCI has a direct relationship with the optimism of those making the purchases. Though much of the commodity market has had a difficult time keeping up with the unprecedented demand in consumerism, a strong balance is also occurring throughout many high-demand markets. This not only helps to bolster consumer confidence, it gives a better interpretation of economic stability.  
Business to business spending has been steadily increasing but has still yet to reach a pre-event level. But consumer confidence tends to drive business authority. Businesses that have been reserved in their spending based on the unknowns of the near future can use this indication of confidence as a hopeful beacon for growth. While economists have assumed that business spending won't increase past early 2020 levels until at least next year, the renewed consumer optimism should help drive business confidence.
by Seth Barnett, VP Content Development